---
What's NEW ?
---
NEW Youtube Show coming soon!
Subscribe to my Youtube Channel !
---
Latest News
---
Here's a fun article! I think you'll like #34.
45 Things Only People Who Grew Up in the South Will Understand
Sometimes the South feels like its own little country. I was born and raised in North Carolina, where I spent Summers scraping clay off the sides of a creek to make pretend pottery and catching lightning bugs in mason jars More…
---
"ACM PRESENTS: SUPERSTAR DUETS" TO AIR FRIDAY, MAY 15 ON THE CBS TELEVISION NETWORK view press release
Preview:

---
Deana Carter sings "You And Tequila" Live at the Grand Ole Opry
Read More about the inspiration behind the writing "You and Tequila" and "Strawberry Wine"
---
Up Coming Shows
Click here to see all shows
---
Deana's Single "That's Just Me"
WATCH VIDEO
Southern Way of Life – Available on iTunes – Deana Carter
---
LIVE impromptu Video at Sunset Marquis.

---
Albums

View and Listen…
---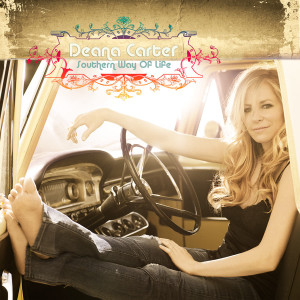 FOR IMMEDIATE RELEASE:
 AWARD–WINNING MULTI-PLATINUM SINGER/SONGWRITER DEANA CARTER TO RELEASE SOUTHERN WAY OF LIFE ON LITTLE NUGGET RECORDS MONDAY, DECEMBER 2, 2013 VIDEO TO PREMIERE ON USATODAY.COM FOR "DO OR DIE" WEDNESDAY, NOVEMBER 20th CARTER READIES FIRST RELEASE ON HER OWN LABEL BY ENGAGING FANS TO HELP PICK SINGLE
read More
---
Featured Album: Southern Way Of Life
Southern Way Of Life Released December 2, 2013 Label: Little Nugget / SonyRed
Track Listing:


1.     You Can't Stay
2.     Before You Left
3.     I Know Better
4.     I'll Save My Love
5.     I Don't Want To
6.     That's Just Me
7.     Waiting For You
8.     I Barely Knew
9.     Do or Die (video and first single)
10.   Southern Way of Life
---
Blog
How A Weird and Wonderful Friendship Between a Generation-X Barista and a Homeless Nonagenarian Transformed Them Both into Cinema Royalty

(5/16/2016)

-

Myra Chanin Author; aka 'Mother Wonderful'; Radio/TV Personality, Former Producer, 'The Joey Reynolds Show' Yaniv Rokah is an Israeli-born ex-barista, currently winning plaudits for filming, writing, directing and producing his first film, Queen Mimi, which just opened nationally. Queen Mimi is a heartwarming, quirky, truth-is-stranger-than fiction documentary aboutRead
And they called it Puppy Love (Video)

(2/3/2016)

-

Morning' everyone! Morning time with Hugh and Georgie! Watch Hugh raise his paw. He's so cute! @0:53 And subscribe to my channel 😉

THAT'S JUST ME – NEW VIDEO

(2/2/2016)

-

"That's Just Me" from Southern Way Of Life album. View more videos here, on my youtube channel, and please subscribe. xoxo Deana // That's Just Me – Deana Carter  Lyrics// There's a burned out bulb on the Café sign Feels just like this heart of mine When I untie these apron strings Tonight I'm gonna spreadRead