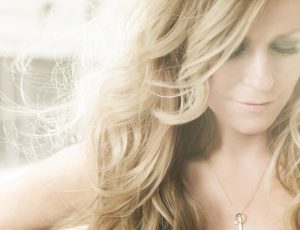 DEANA CARTER
25th Anniversary Edition of the Groundbreaking
5X Platinum Debut Album
Did I Shave My Legs for This?


How many years has it been since you had your first taste of love? And how many years have you spent cherishing that love? It's funny how those memories, they last.
For Deana Carter, who brought that very special kind of love to life in her debut single "Strawberry Wine," it's been 25 years. And now, she's celebrating her 5X Platinum debut album from 1996 — Did I Shave My Legs for This? — with an anniversary reissue of remastered songs, plus two new tracks which Carter produced herself that feature country music's brightest stars from several eras.
But before you can even think about that new release, you have to throw yourself back to the original one in the 90s, when women were all over the top of the charts, and newcomer Carter was able to waltz right in and reach No. 1 with "Strawberry Wine." Her very first single off of her very first album went on to be named the Country Music Association's Single of the Year and Song of the Year in 1997, as well as nominated for a GRAMMY and an Academy of Country Music award.
When Carter first heard "Strawberry Wine," written by Matraca Berg and Gary Harrison, she recalls being floored by how it mirrored her own life story, even though she wasn't the one holding the pen. "I'd been raised to sing songs that are meaningful to you so that they'll resonate with the people listening. So you can be earnest in the message you're sending. And I didn't want to compromise my artistic integrity," Carter says now, looking back, "because I'd worked so hard to build it. But then I heard 'Strawberry Wine,' and I was like, 'How did you write my life story?'"
Much like the young girl in the song, Carter's grandparents had a farm, she had a first love when she was a teenager, and the whole story was just like hers. "I wanted to record it because it was the only time I'd ever heard something that I felt like I had lived it. It didn't sound like anything else, and it was progressive at the time. It was exactly my emotions and my experience. Recording that song was like a victory dance as well as a lesson for me, because it allowed me to open my heart and my mind to someone else potentionally writing something that I had lived," the singer-songwriter says. "Everybody's had that first love, that first heartache, that first experience that maybe didn't end the way they'd hoped. You live through it and you get past it, but there's some nostalgia in how we are always connected to our roots. It's where we go from there that's up to us, and that's what listeners relate to."
Being true to her own life story is what Carter thinks made her music stand the test of time. And now, all these years later, she is celebrating the kind of music the world still cherishes with the 25th Anniversary Edition of her groundbreaking debut, due out November 5. Carter invited Lauren Alaina, Ashley McBryde, Kylie Morgan, Martina McBride, and Vince Gill to join her on "Strawberry Wine," and Terri Clark, Sara Evans, McBryde, and Gill to share the mic with her on the title track.

She says choosing those collaborators was easy, because she went to the singers she had a connection with. Carter, Alaina, and McBryde had performed "Strawberry Wine" together at the 2018 ACM Honors awards show at the historic Ryman Auditorium. McBride had always been an artist Carter looked up to when she was the new girl in country. Carter feels connected to Evans and Clark because they're blessed with a sense of humor and don't take themselves so seriously. Morgan was a young artist who Carter predicted would put a unique spin on the young-love song. And then she had to have Gill. "Vince supported me so early on. He came to my first in-store show at Tower Records on West End in Nashville, and just stood in back of the room. To see someone like him there was such an endorsement," she says.
Carter has found that she isn't alone in her longing for the kind of music that was being made in the 90s. The kind that she maintains goes beyond a clever hook. "A song's content is important, but so is the melody, and how those both touch your heart. That layering of intentionality comes very naturally to me," she says. "I really do believe that all the hard work – lyrically, melodically, physically and mentally – creates a culmination of all of that input and effort. It's a timeless testimony to making good, meaningful music." Which may explain why countless young artists have been consistently covering or referencing "Strawberry Wine," for many years, including Kelly Clarkson, Thomas Rhett, Sam Hunt, Maren Morris, Carly Pearce, Mickey Guyton and Riley Green, to name a few.
Country radio seems to echo those feelings about the music, because they still play her breakout hit.

"Country radio is always going to be super important to me, because radio is what broke 'Strawberry Wine.' They were willing to play a five-minute waltz from a new artist, which was unheard of at that time," she says.
Even as Carter continues to make new music, which she always will, she will never turn her back on the songs that landed her here. "My first record is always going to be my Hotel California. It's what people want to hear more than any other record, and I am more than fine with that. So for the last 25 years on tour, we always go back to it. I'll always hold this album up with reverence and appreciation for what it has meant for country music, and for how it has represented me artistically."
The 25th anniversary celebration of the album and the artist is not, Carter says, about her. "It's about the whole Nashville community and my respect for everyone who dedicates their lives to creating authentic music. I'm just so grateful for all the love and hard work, and especially to Capitol Records who believed in me."
There's a saying in Nashville that you have your whole life to make your first record and then you only have about six months to make your second. Which meant that even after all the massive success of Did I Shave My Legs For This? on its first go 'round, Carter didn't have much time to revel in it. So now, she's making up for it. "Now I have time to soak it in. The fact that the music has had this much longevity is perfect for me, because I'm a slow-and-steady-wins-the-race kind of girl. And this is not lost on me." Longing for the times we had is a common condition, Carter thinks. "We won't leave our history in the dust. Let's carry that nostalgia with us, always."
The 25th anniversary editions of the album have been remastered and will be released on a CD with two bonus tracks, produced by Carter, as well as a Digital Deluxe with ten additional songs, seven of which will be available digitally for the first time. Other chart toppers from Carter's debut album included "We Danced Anyway" (co-written by Berg and Randy Scruggs), "How Do I Get There" (co-written by Carter and Chris Farren), and "Count Me In" (co-written by Carter and Chuck Jones).
Did I Shave My Legs for This?
25th ANNIVERSARY EDITION CD + DIGITAL DELUXE
CD
1. "I've Loved Enough To Know"
2. "We Danced Anyway"
3. "Count Me In"
4. "If This Is Love"
5. "Love Ain't Worth Making"
6. "Before We Ever Heard Goodbye"
7. "How Do I Get There"
8. "Strawberry Wine" (remastered original)
9. "That's How You Know It's Love"
10. "Did I Shave My Legs For This?" (remastered original)
11. "To The Other Side"
12. "Strawberry Wine" (2021 version)
13. "Did I Shave My Legs For This?" (2021 version)

DIGITAL DELUXE
1. "I've Loved Enough To Know"
2. "We Danced Anyway"
3. "Count Me In"
4. "If This Is Love"
5. "Love Ain't Worth Making"
6. "Before We Ever Heard Goodbye"
7. "How Do I Get There"
8. "Strawberry Wine" (remastered original)
9. "That's How You Know It's Love"
10. "Did I Shave My Legs For This?" (remastered original)
11. "To The Other Side"
12. "Strawberry Wine" (2021 version)
13. "Did I Shave My Legs For This?" (2021 version)
14. "Angel Without A Prayer"
15. "Rita Valentine"
16. "I Can't Shake You"**
17. "Are You Coming Home Today?"**
18. "Turn Those Wheels Around"**
19. "Graffiti Bridge"
20. "We Share a Wall"**
21. "Don't Let Go"**
22. "Just What You Need"**
23. "Did I Shave My Legs For This?" (alternate version)**
** Previously unreleased digital